NEXUS 16 will be the first of its type to deliver a self-deployable communications platform with industry-leading specifications.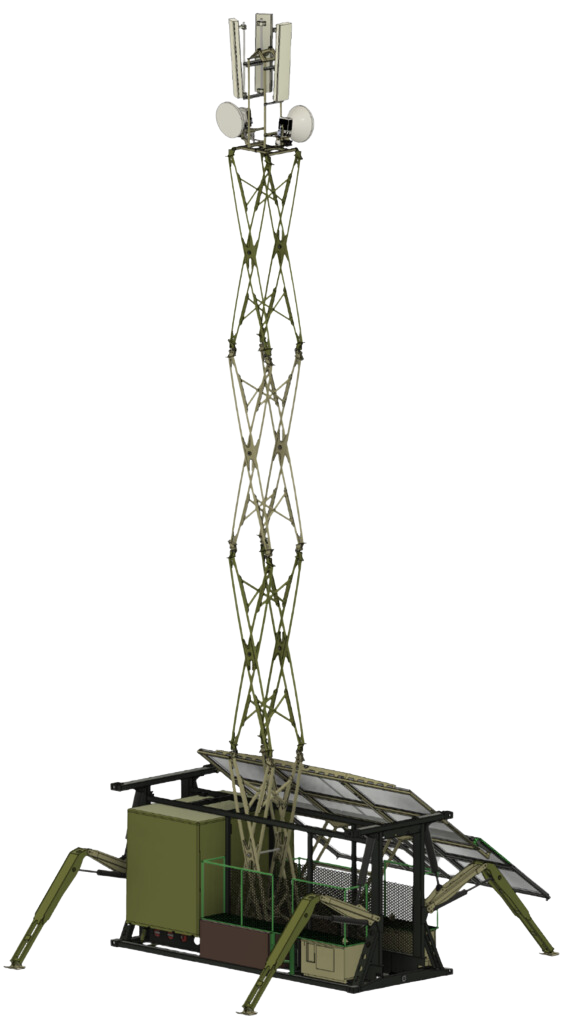 The Nexus 16 is a 20ft container sized, technology-agnostic platform that supports a walk-in equipment room, batteries, solar arrays and generators along with a 16m folding tower.
Able to be transported to site on any truck that can take a standard 20ft container, the Nexis 16 can unload itself, adapt to sloping or uneven ground and then deploy 16m cyclone rated tower. - All within 30 minutes.
Enhanced Safety
Our Nexus 16 rapidly deployable towers are self-unloading, mechanically locked and low voltage, DC powered eliminating the need for cranage, tower riggers and electricians.
Increased Efficiency
Finally, a solution that delivers high capacity (LTE) level communications to where and when you need it. Powerful and fully redundant support for your life, mission or business critical applications.
Cost Savings
Nexus 16 Self Deploying Communications Platforms can support almost any equipment payload and can be unloaded and operating in under 30 minutes. No groundwork or trained operators needed.
Reducing Environmental Impact
With no need to level the ground or place concrete, the N16 has a feather like touch on the environment. Featuring 4.8kW of solar panels to power the payload there is minimal diesel or site access required.
Powered by cutting-edge PLC technology, the Nexus 16 self-deploying platform has been designed form the ground up to be completely autonomous in deployment and operation.
All critical systems are duplicated resulting in an infrastructure asset that can be relied upon in the harshest of environments.
The advanced autonomous systems allow the N16 to be deployed and set to operate by a single operator with minimal training.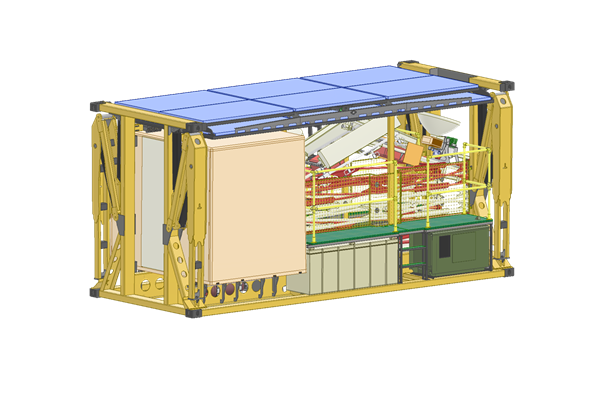 Step 01
The Nexus 16 complies with the dimensions of an in-gauge 20 foot high-cube container complete with all 8 container locks.
At an operating weight of 9.6T, Nexus can be lifted, stored and transported by any asset that can handle sea containers.
Step 02
Once the Nexus 16 has arrived on your site, a single button press on the wireless controller will power up the hydraulics and the NX16 will automatically lift itself off the transporting truck and place itself down on the ground. From ground level, work can be done in the equipment room or on the tower minimising safety concerns.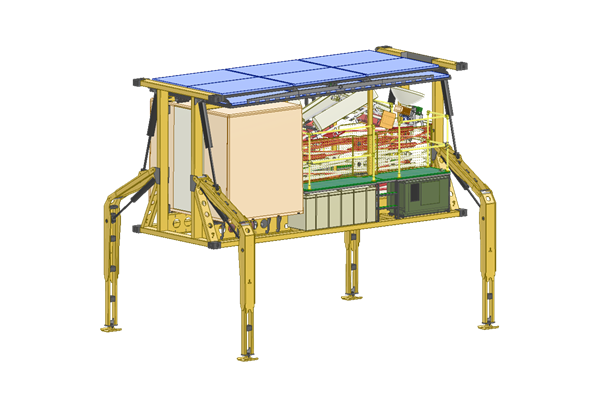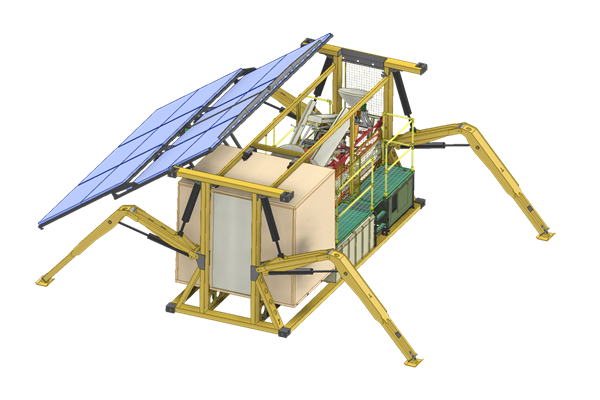 Step 03
After any checks or changes are completed, a further button press will cause the 4 double jointed legs to extend and automatically level and stabilise the platform. Uneven ground and slopes of +/-10 degrees can be accommodated be the autonomous leveling algorithm.
Step 04
Once the NX16 is level and stable, the solar array will deploy automatically. The resulting 4.8kW of panels can support a 800W equipment load almost indefinitely and loads up to 1.2kW for a year between generator refills. Loads up to 7kW can be supported with additional diesel usage and even more with power upgrades.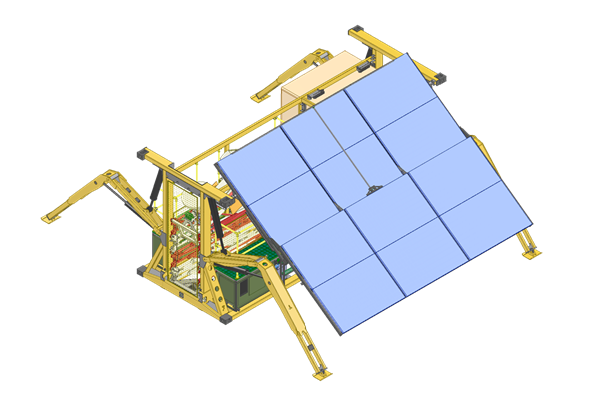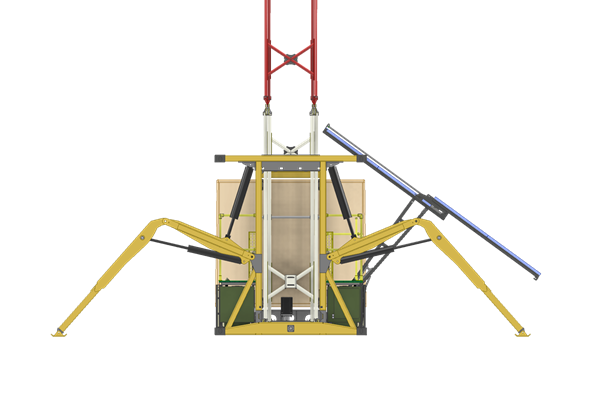 Step 05
Tower lift comes next and like all other tasks, is a 1 button deploy. Driven by a locking lead screw in the base, the scissor-based tower will lift to a full height of 16 meters. Supporting large payloads weighing up to 250kG in 100km/h winds with compete stability and safety.
Electrically driven and self-aligning antenna mounts completes the installation by locking onto the coordinates of far end microwave radio systems.
Step 06
Built-in Reliability & Safety
The heavily researched and patented 16-meter tower is driven at the base by a lead screw which must be driven to raise or lower the tower thereby eliminating safety issues that plague stored energy systems using pneumatics or hydraulics.
In addition to the vastly improved safety case, the screw drive and completely mechanical construction of the tower translates to many years of reliable operation in the world's most demanding environments.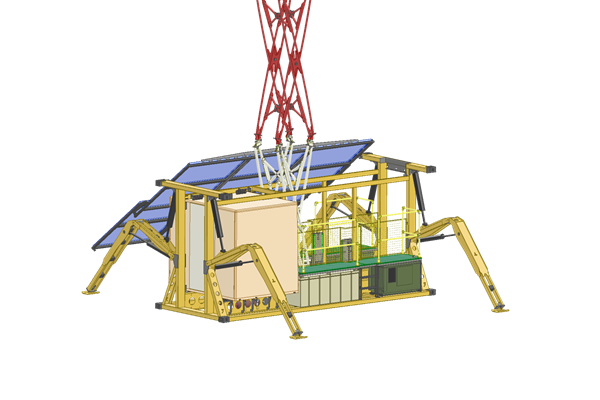 Want to see the Nexus 16 rapidly deployable system in person?
Based in Fremantle, Western Australia, our experienced team will happily organise a demonstration to showcase the capabilities of Nexus 16 and what sets it apart from previous portable communication tower infrastructure.